If you're old enough you'll remember when cam shows were grainy and frustrating experiences. It was like watching someone through night-vision goggles during a snowstorm. Constantly under threat of losing connection and always lagging and buffering until you finally give up and jerk off to something you spent six hours downloading a week before. Obviously, things have improved a whole lot since those bad old days. Far from being harmed by commercialization, as a lot of people thought when cam shows went mainstream, sites like Chaturbate have made the format more popular than ever, with millions of fans tuning in to watch their fave guys perform for them.
Some of the most famous adult performers in the world have moved into cam shows as independent artists. Or they started out there before moving into hardcore gay studios and appearing on DVD, mixing the two sides of the business together.
Although the amateur nature of cam shows is one of the biggest draws for a lot of viewers, most of the successful cam guys know how to mix in some professionalism and have worked hard to make their broadcasts more original and fun. It's not all about the body and cock with these guys, it's about personality and getting to know the guy you love watching. These days it's mostly high-quality streaming with great clarity, guys have their own studios to shoot in, they bring in connected toys for some audience participation, and invite friends and other cam performers to join them for duo broadcasts, too.

There are straight guys, gay couples, curious men and the undecided who just seem to like showing off and don't care who watches. There are twinks, muscled jocks, daddies and bears, guys who like to get to know their fans and invite them to follow them on other platforms, or guys who just appear for a few minutes to get off and then won't be seen for another month.
Whatever kind of guy you're looking for, and whatever kind of performance you're into, there's a good chance you're gonna find them within a few minutes at Chaturbate.
I have my favorites, of course. I would recommend watching bearish muscle hunk Colbymoney, a straight jock who started out on one of the "Frat" websites before going solo. With 80,000 followers to boast of he's obviously doing a lot of things right in his broadcasts.
If younger, smoother guys are your thing then you have boys like Conortwink to check out, an impressively alabaster boy with an uncut cock and 13,000 fans wanting to see him enjoying it.
 Men Performing on Chaturbate
Not all guys play solo, of course. Today I've been checking out Russian friends Hotty_Simon and Sailor_Dan enjoying their uncut dicks together and shooting off some loads for their fans, with hundreds watching their new show.
Once you've found a good guy to watch at Chaturbate there's often an opportunity to watch past broadcasts too, so even if they're not on cam today you're probably gonna have something of theirs to entertain you for a while.
To be honest, there are so many great guys on the site it would be impossible to be bored. I've been enjoying the guys there for more than a year. It seems that every time I go to look around there's at least another handsome hunk to become a fan of.
Of the several major cam companies out there running sites like this, the Chaturbate male cam shows keep me coming back for more, and with good reason; there are so many amazing guys to watch.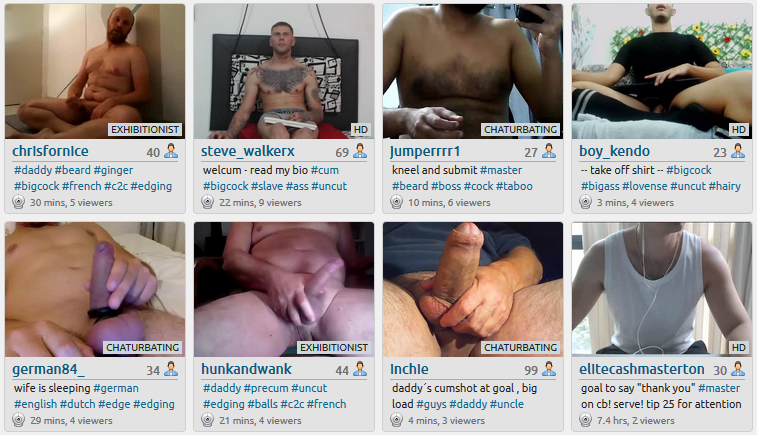 You can tell from the previews that this is going to be a wild experience. There's going to be so many different horny dudes all fighting for your attention. It's a great feeling to have so much attention from such hot guys. Explore different types of men and fetishes and see if you find something new you like. You might just have a thing for hairy muscle dudes and you never even knew it. Be sure to check out the different categories available, like #bigcock and #ginger. There's about a hundred others to choose from, so you will have plenty of exploring to do.
Searching through the different categories and finding new males to chat with is one of the best parts. We like to look for guys in a certain country. Especially after we determine that we like their particular look.
See Different Men On Cams Every Day